The small town of Herkimer, NY is home to Licari Motor Car which, to the average person driving by, looks like any other late model used car dealership. Licari Motor Car was founded by Samuel Licari in 1989 who, after working in the car business for many years, wanted to open his own dealership. Throughout the years Samuel slowly built a loyal customer base from selling good quality used vehicles while focusing on providing an unparalleled customer experience. As the business grew, Samuel eventually constructed a new building featuring a showroom, multi-bay service area, and a body shop.
When you walk through the doors into Licari's showroom, you first see an assortment of aftermarket wheels for trucks and Jeeps. Suspension lift kit components and small scale aftermarket steel bumpers also scatter the space making it clear that Licari does much more than just sell late model cars. A customized golf cart and a beautiful late model Dodge Challenger reside in the showroom as well. Tucked away in the corner is Samuel's son Jesse Licari's office. Jesse, at only 22 years old, has helped revolutionize Licari's business by starting a custom off-road shop within the dealership.
When asked how Jesse and his father knew there was a market for modifying late model trucks and Jeeps in the Central NY area, one story immediately came to both of their minds. According to Jesse and his father, one day they were each waiting on a different customer looking at the same Jeep. Since Jesse and his father knew that they had two stock and one lifted Jeep on the lot, they both asked their customer which Jeep they were interested in. Both customer's replied, "The lifted one." Jesse said, "Right then and there we realized they didn't even want to look at the stock ones." He realized that a stock Jeep or truck simply didn't excite his customers in the way that the modified ones could.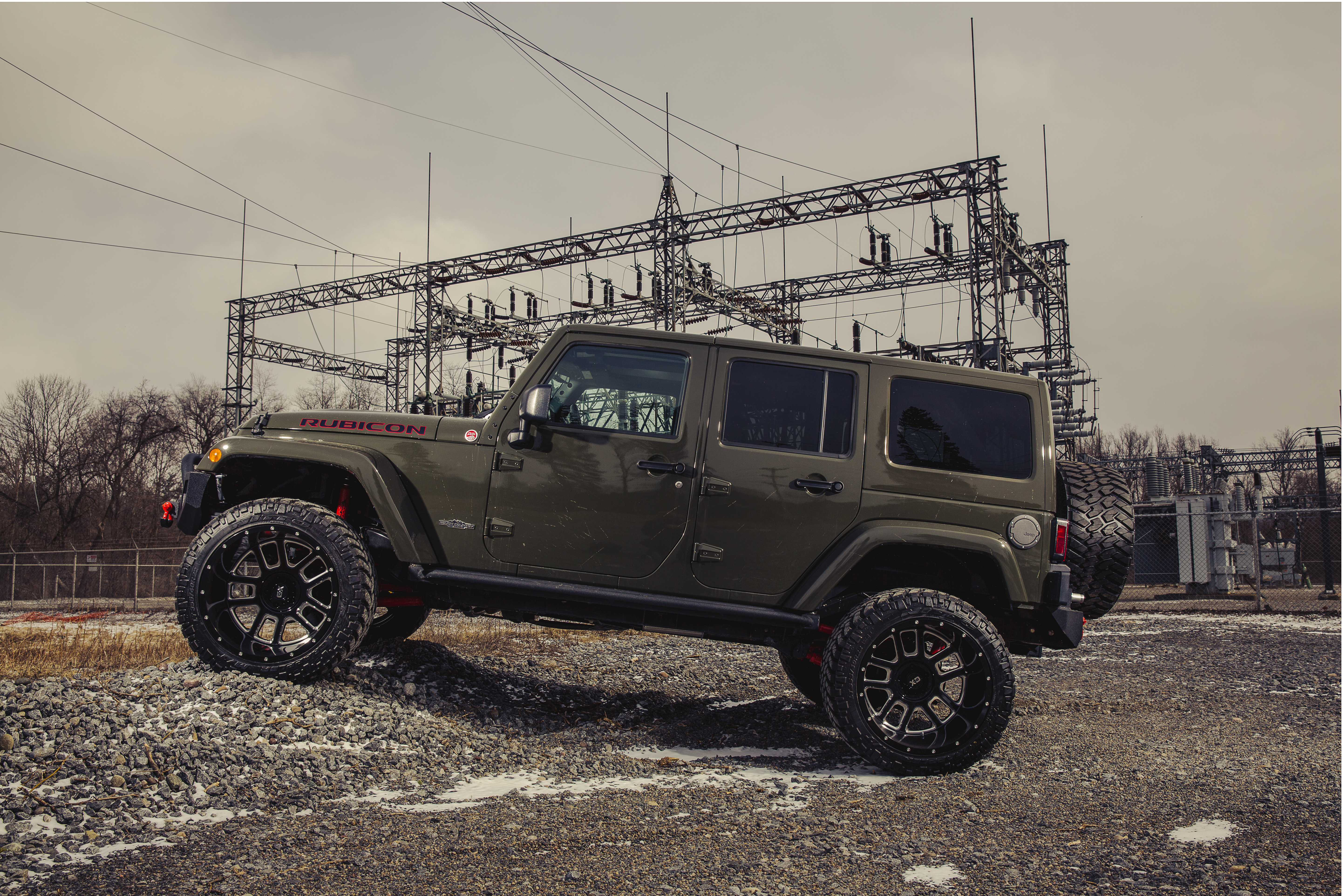 With the knowledge of what his customers seek in a vehicle and what Licari can make a profit on, Jesse has developed a formula for the vehicles he looks to modify. Most of the time, Jesse looks for very clean, well optioned, 1-3 year old Jeeps and trucks with about 30,000 or less miles on them. According to him, this range provides a vehicle that is new enough to be worth modifying while being cheap enough to sell in the Central NY market. His most recent build, a 2015 Jeep Wrangler Rubicon Hard Rock Edition with 30,000 miles fits this formula perfectly.
Upon first glance, the Jeep's beautiful 22" diameter 14" wide XD 879 wheels immediately grab any automotive enthusiast's attention. Their massive size combined with a -76mm offset gives the Jeep an impressive stance that makes anyone who looks at it smile. To complete the look, 33" tall 14" wide Nitto Trail Grappler tires were chosen to give the Jeep a beefy off-road look.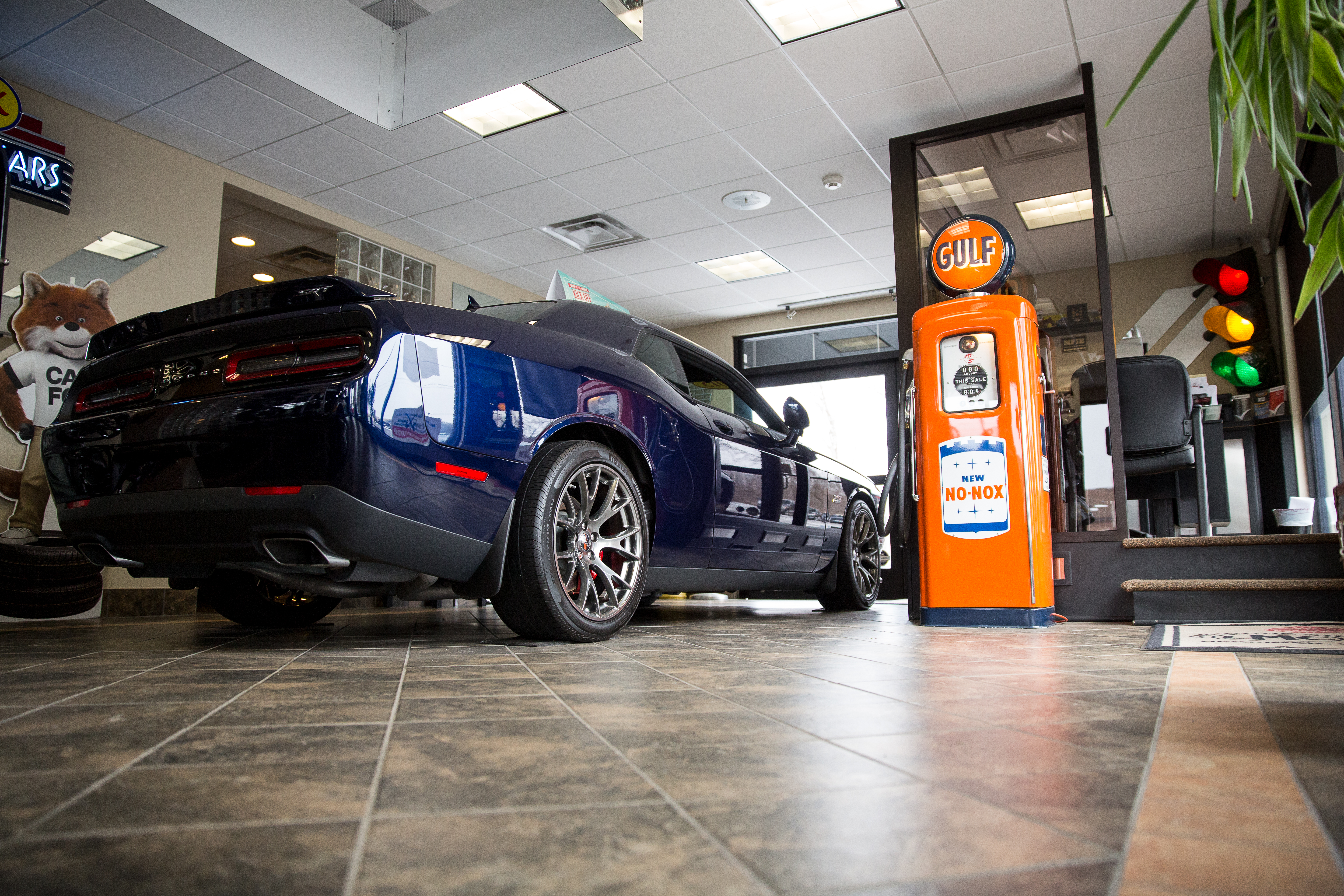 To fit such massive wheels, the Jeep needed a lift kit. According to Jesse, he has found that Rough Country's affordable, but high quality lift kits sell the best in the Central NY market. Jesse chose to lift the Jeep 4" with one of their X-series lift kits painted red which gives all of the suspension components a distinct look. A few years ago, Licari became a Rough Country certified installer which insures that both the stock Jeep and Rough Country warranties were not voided after installing the lift kit.
When walking around to the front, the Jeep's rugged Barricade Trail Force HD bumper catches your eye. Attached are four 2" pod LED lights, a 9,500 pound Rough Country winch and painted D-rings complete with rubber bushings so they don't wear the paint on the bumper. An Angry Bird grill was installed and behind it what I think was Jesse's favorite addition, LED grill accent lighting. Multiple times Jesse excitedly said to me "Hey check out the grill lights" and "make sure to get pictures of the grill with the lights on." Mounted on the back of the Jeep, is an equally as menacing Barricade rear bumper with tire carrier which ties in perfectly to the rest of the build.
Even though Jesse focuses on making flashy eye-catching modifications, what is equally impressive is some of the less visible work Licari does to all of their builds. Even though this Jeep is fairly new, Licari still sanded and recoated the Jeep's frame before bolting up all of the lift kit components. This not only protects the frame from corrosion, but it also greatly enhances the overall looks. All of the switches for the LED accent lighting were mounted above the steering wheel where they are easy to reach and blend in well with the interior. Although subtle, these touches prove that Licari cares about the longevity of their vehicles and the long term satisfaction of their customers.
In general, Licari does about a dozen shop builds and up to 20 builds a year for customers. They will do anything from leveling a pickup and installing wheels and tires to very off-road capable Jeeps using high end BDS and Pro Comp lift kits. Although it may just seem like any other small car dealership in Central NY, Licari is actually so much more. From a late model sedan to a quality custom Jeep, Licari has the vehicle for you.