Calendar
---

May
19
Sat
Sprague & Killeen's 3rd Annual Wings & Wheels for Warriors 2018

@ Joseph Y. Resnick Airport
May 19 @ 9:00 am – 3:00 pm
Sprague & Killeen's 3rd Annual Wings & Wheels for Warriors will be held on May 19th, 2018 at the Joseph Y. Resnick Airport. Proceeds from the event will benefit the Disabled American Veterans. The last two years raised a total of $22,150!!!
All Rides are Welcome!
Pre-register your vehicle today at www.wingsnwheelsforwarriors.com
Pre-Registration: $10/ Vehicle
Day-of Registration: $15/ Vehicle
Gates open at 7:30am, vehicles must arrive no later than 12pm to be judged.
You won't want to miss this fun-filled, family event!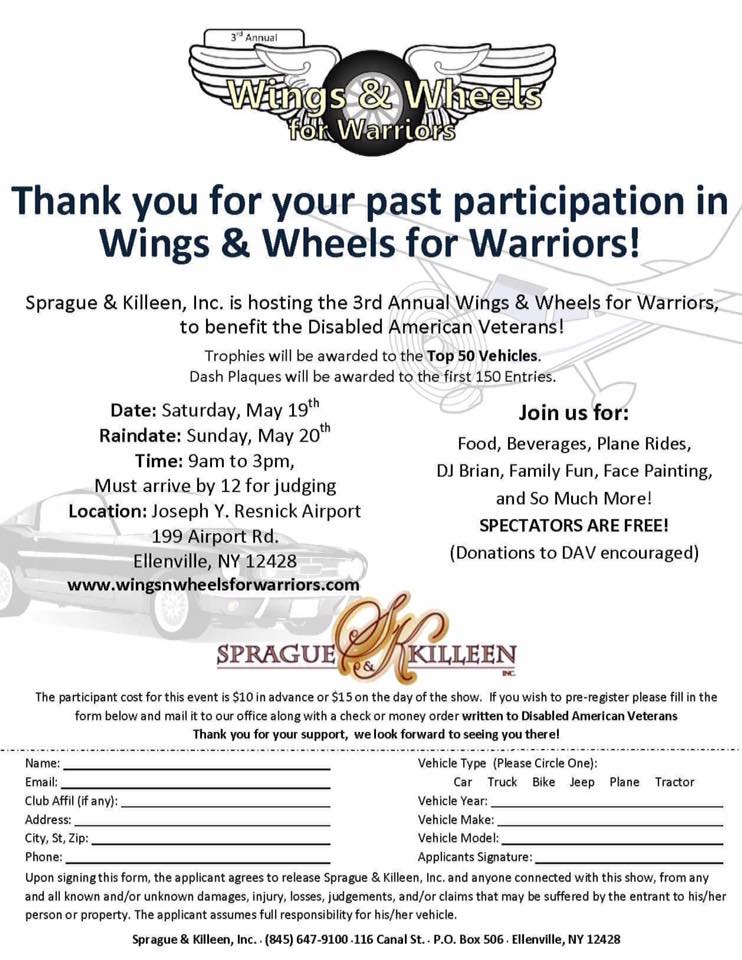 May
20
Sun
Ruge's 6th Jeep Go Topless Day 2018

@ Ruges Chrysler Dodge Jeep
May 20 @ 10:00 am – 2:00 pm
Our 6th Annual Jeep Go Topless Day is on SUNDAY (not Saturday) from 10am-2pm. It's free, it's fun! nice Dogs (on a leash) & small children (leash optional) welcome! Lots of cool Jeep Prizes to be won… free hot dogs… Last year 140 Jeeps (you don't have to be a Wrangler, or Topless) joined us for a day of friendly, family fun. Tickets are not needed. I'm sure the Ramp will be back again for a small fee.
Aug
5
Sun
7th Jeeps at The Beach 2018

@ Sylvan Beach
Aug 5 @ 9:00 am – 4:00 pm
7th Annual Jeeps at The Beach
In the Village Park. If you love Jeeps we'll have them here! Bring your Jeep or come and check out over 400 on display.
Register @ jeepsatthebeach.com $10 entry fee
Like Jeeps At the Beach on Facebook
Questions? Contact Mike @ 315-676-2131
Mike@jeepsatthebeach.com
https://www.facebook.com/Jeepsatthebeach

All proceeds are donated to the Upstate Golisano Children's Hospital
Visit sylvanbeachny.com for the most up to date happenings in #sylvan
*Sponsored by Sylvan Beach Resort Association
Be sure to like us on Facebook!
We encourage feedback, photos and videos- please share with us!
Just a friendly reminder, We ask that visitors please respect our no open container policy, this includes the beach. We desire to be a fun but safe place to visit, and are promoting to be a friendlier- family oriented environment. Open container tickets can, and will be distributed for fines of $250